The Best Macaroni Cheese Recipe
Macaroni Cheese Recipe with PaediaSure Shake
Macaroni Cheese Recipe with PaediaSure Shake
Method:
Preheat your oven to 200ᵒC / Gas mark 6
Cook the pasta in boiling water as per packet instructions.
Strain and tip back into pan to rest while you make the white sauce.
In a medium pan melt 3tbsp of butter over a medium heat.
Add 3tbsp flour and stir until a paste is formed.
Slowly add the milk, stirring constantly until it starts to thicken.
Add 2 scoops of PaediaSure Shake powder vanilla flavour and stir to combine.
Add about three quarters of the grated cheese and stir until a thick sauce is made.
Mix the cooked pasta in with the sauce until it is all combined and pour into a lightly greased oven-proof dish.
Mix together the rest of the grated cheese with the breadcrumbs and sprinkle over the top of the pasta.
Bake at 200ᵒC / Gas mark 6 for 10 minutes or until golden brown and crispy on top.
Let it stand for a couple of minutes then serve with your child's favourite veggies. (If your child takes a bit of persuading to try new vegetables, you could pre-cook some and mix them in with the cheese sauce at stage 9.) Enjoy!
Serves: 6
Ingredients
2 scoops* PaediaSure Shake powder vanilla flavour
300g macaroni or any pasta you have to hand - wholegrain is best for extra fibre
3 tbsp butter
3 tbsp plain flour
450ml whole milk
230g grated cheddar cheese
4 tbsp breadcrumbs
Contains allergens: gluten, milk, soy
* Use the scoop provided in the PaediaSure Shake tin.

Essential nutrients for kids
Enriched with 26 vitamins & minerals to help keep kids healthy and support their immunity†
One glass of PaediaSure Shake contains the same amount of nutrients as...‡1
Carbohydrates
90g boiled rice
Vitamin C
3-4 strawberries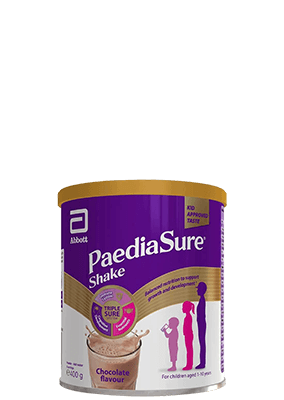 Phosphorus
210g frozen peas
Vitamin A
10-12 cherry tomatoes
1 Approximate values for PaediaSure Shake Powder only. A glass of PaediaSure Shake is 225mL.
‡ Food supplement should not be used as a substitute for a varied and balanced diet and a healthy lifestyle.

Join our family!
To get a FREE sample, discover fuss-free recipes, free meal planners and top tips.
Sign up now!