Cauliflower Alfredo Spaghetti
Give spag bol a break and try this alfredo sauce instead
Cauliflower Alfredo Spaghetti Recipe with PaediaSure Shake
Your fussy eater will love the smooth, creamy texture of this tasty pasta sauce. Enrichedwith PaediaSure Shake, it's packed with essential nutrients to support healthy growth andimmunity*†.
Method
Preheat oven to 180°C/350°F.
In a small non-stick skillet over low heat, sauté the minced garlic with the butter until fragrant, being careful not to brown the garlic.
In a food processor, place the cooked cauliflower, sautéed garlic & butter, PaediaSure Shake ready-to-drink (vanilla flavour), salt and pepper. Blend several minutes until the sauce is very smooth, adding a little more liquid as needed to obtain the right consistency. Bring a large pot of water to a boil. Cook pasta according to package instructions. Remove from heat, drain the pasta and return to the pot. Toss the pasta with the sauce, cooked diced bacon and parmesan cheese.
Transfer to a greased casserole dish and top with grated mozzarella cheese. Bake at180°C/350°F for 20 minutes or until cheese has melted and pasta has heated through. Let cool slightly before serving!
Tips:
●Substitute/add your child's favourite meat (such as ground beef or chicken) and/or sauce (such as tomato or meat sauce) for variety
.●Instead of mixing all ingredients together, you can layer the meat or protein choice under the cheese.
●Substitute whole grain pasta to up the fiber content.
*Contains essential fatty acids which are needed for normal growth and development of children.This beneficial effect is obtained with a daily intake of 2 g of alpha-linolenic (ALA) and 10 g of linoleicacid (LA).†Contains vitamin D which contributes to the normal function of the immune system in children.
Ingredients
Makes 12 servings | Takes 40 minutes
1 cup PaediaSure Shake ready-to-drink, vanilla flavour
5 cups cauliflower florets (1 small/medium cauliflower), boiled for 5 minutes
2 Tbsp. butter1 Tbsp. minced garlic (2 cloves)
1/2 tsp. salt
1/2 tsp. pepper
1 package of spaghetti pasta
3-1/2oz bacon (or other favourite meat), pre-cooked and diced
1 cup parmesan cheese, grated
1 cup part-skim mozzarella cheese, grated

Essential nutrients for kids
Enriched with 26 vitamins & minerals to help keep kids healthy and support their immunity†
One glass of PaediaSure Shake contains the same amount of nutrients as...‡1
Carbohydrates
90g boiled rice
Vitamin C
3-4 strawberries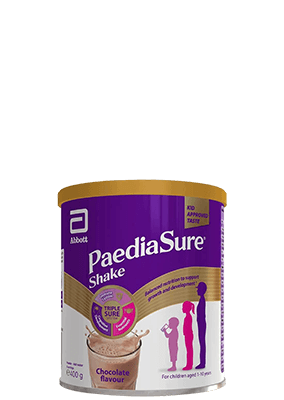 Phosphorus
210g frozen peas
Vitamin A
10-12 cherry tomatoes
1 Approximate values for PaediaSure Shake Powder only. A glass of PaediaSure Shake is 225mL.
‡ Food supplement should not be used as a substitute for a varied and balanced diet and a healthy lifestyle.

Join our family!
To get a FREE sample, discover fuss-free recipes, free meal planners and top tips.
Sign up now!