Crispy Chicken Fingers with Ranch Dip
Strips of crispy chicken in a herby dipping sauce
Howdy pardners! Your little cowboy or cowgirl will say 'yee-ha!' to this crunchy lunchie. Both the crispy chicken and the creamy dip are enriched with PaediaSure Shake. So, they're not just tasty, they're nutritious too.
Method
Preheat oven to 230°C/450°
Pour ½ cup flour into a small bowl (to be used in step 1a below).
In a bowl, whisk together PaediaSure Shake ready-to-drink (vanilla flavour) and eggs (To be used in step 1b below). Ina separate bowl, combine remaining flour, panko crumbs, salt and pepper(To be used instep 1c below).
Using a meat mallet, flatten each chicken breast to approximately ¼-inch thick and cut into2-inch strips.
Bread chicken as follows:
1.Dip chicken in flour
2.Dip into PaediaSure Shake ready-to-drink, vanilla flavour
3.Dip in breadcrumb mixture, turning to coat
Place chicken strips on a baking sheet and bake for 20 minutes or until cooked through and golden brown.
While chicken is cooking, combine all ingredients for the ranch dip in a food processor and blend until smooth. Cover and refrigerate until ready to eat.
Tips:
Be prepared: make mixtures of your favourite herbs and spices in advance serve leftover dip with veggies
Ingredients
Makes 8 | Takes 40 minutes
1/2 cup PaediaSure Shake ready-to-drink, vanilla flavour
2 large eggs4 chicken breasts1 cup panko crumbs
1/2 cup all-purpose flour1/2 tsp. salt1/2 tsp. pepper
Ranch Dip:
1/2 cup PaediaSure Shake ready-to-drink, vanilla flavour
1/2 cup cottage cheese
1/2 cup sour cream
1/2 tsp. each dried chives, dried parsley, dried dill, and garlic powder
1/4 tsp. each onion powder, salt, and ground black pepper

Essential nutrients for kids
Enriched with 26 vitamins & minerals to help keep kids healthy and support their immunity†
One glass of PaediaSure Shake contains the same amount of nutrients as...‡1
Carbohydrates
90g boiled rice
Vitamin C
3-4 strawberries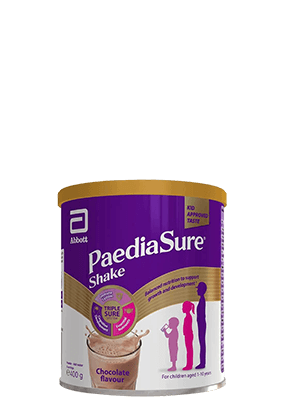 Phosphorus
210g frozen peas
Vitamin A
10-12 cherry tomatoes
1 Approximate values for PaediaSure Shake Powder only. A glass of PaediaSure Shake is 225mL.
‡ Food supplement should not be used as a substitute for a varied and balanced diet and a healthy lifestyle.

Join our family!
To get a FREE sample, discover fuss-free recipes, free meal planners and top tips.
Sign up now!