Fabulous All-dressed Pizza Frittata
A frittata that thinks it's a pizza
Fabulous All-dressed Pizza Frittata
Your little one will love to choose their favourite pizza toppings for this speedy and satisfying frittata. Finish off under the grill for mouth-watering melted cheese. Perfect for sharing
Method
In a 10-inch skillet, heat olive oil over medium heat. Place potatoes and onions in skillet, cover and cook approximately 10 minutes, until potatoes are tender but still firm. Add ham and pepperoni, green pepper and mushrooms to skillet and cook 1-2 minutes.
Meanwhile, whisk eggs and PaediaSure Shake ready-to-drink together. Pour egg mixture into skillet. Cook over low to medium heat until eggs are almost set but slightly moist on the surface, approximately 10 minutes. To speed up cooking, lift the edges to allow uncooked egg mixture to run to the bottom of the pan. Pour tomato sauce on top and sprinkle with cheese. Cover until cheese is melted.
Alternatively, if skillet is heatproof, place under the grill for 1-2 minutes until cheese melts.Cut into "pizza slices" and serve!
Tip: Make this recipe with your favourite toppings: protein, veggies, and cheese of your choice
Ingredients
Makes 4 servings | Takes 30 minutes
1 cup PaediaSure Shake ready-to-drink, vanilla flavour
8 large eggs2 medium white potatoes, thinly sliced
1 small onion (¼ cup) chopped
1 Tbsp. olive oil
1/2 cup mixed ham and pepperoni, diced1/2 green pepper, sliced1 cup mushrooms, sliced
1 cup tomato-based pizza sauce
1/2 cup part-skim mozzarella cheese, grated

Essential nutrients for kids
Enriched with 26 vitamins & minerals to help keep kids healthy and support their immunity†
One glass of PaediaSure Shake contains the same amount of nutrients as...‡1
Carbohydrates
90g boiled rice
Vitamin C
3-4 strawberries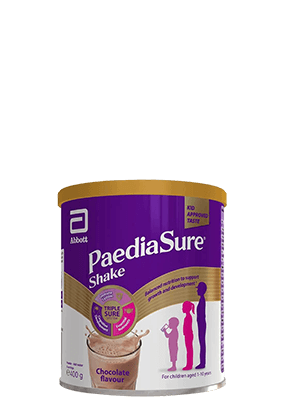 Phosphorus
210g frozen peas
Vitamin A
10-12 cherry tomatoes
1 Approximate values for PaediaSure Shake Powder only. A glass of PaediaSure Shake is 225mL.
‡ Food supplement should not be used as a substitute for a varied and balanced diet and a healthy lifestyle.

Join our family!
To get a FREE sample, discover fuss-free recipes, free meal planners and top tips.
Sign up now!