Fresh Fruit Parfait
Healthy granola recipe for kids
Fresh Fruit Parfait
Packed with fruit, this easy breakfast lifts granola to a whole new level. Best ofall, it can be assembled the night before. Simply pop in the fridge until your little one isready to enjoy it.
Method:
Method: Place 4 parfait cups or plastic tumblers on a small tray. In a mixing bowl, combine PaediaSure Shake powder, pudding mix, milk, and vanilla. Beat with a wire whisk until well-blended. Refrigerate for 10 minutes. Evenly distribute a layer of granola to each cup. Spoon pudding mixture into cups over granola layer. Top with fruit. Sprinkle granola on top of fruit and add whipped topping if desired. Cover and refrigerate 3 hours. Store in refrigerator.
Note: Seasonal fruits can be substituted


Ingredients
Makes 4 x 1 cup servings | Takes 20 mins to make–allow 3 hours in fridgeIngredients:
1/3 cup PaediaSure Shake powder, vanilla flavoured.
3.4 oz package vanilla instant pudding mix1
3/4 cups cold 1% low fat or fat free milk
1/4 tsp. pure vanilla extract
1/2 cup chopped fresh strawberries
1/2 cup blueberries
1/2 cup chopped fresh kiwi
½ cup granola1/2 cup frozen low fat whipped topping, thawed (optional)

Essential nutrients for kids
Enriched with 26 vitamins & minerals to help keep kids healthy and support their immunity†
One glass of PaediaSure Shake contains the same amount of nutrients as...‡1
Carbohydrates
90g boiled rice
Vitamin C
3-4 strawberries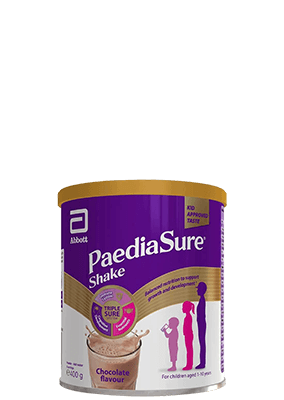 Phosphorus
210g frozen peas
Vitamin A
10-12 cherry tomatoes
1 Approximate values for PaediaSure Shake Powder only. A glass of PaediaSure Shake is 225mL.
‡ Food supplement should not be used as a substitute for a varied and balanced diet and a healthy lifestyle.

Join our family!
To get a FREE sample, discover fuss-free recipes, free meal planners and top tips.
Sign up now!