Scrambled Egg Breakfast Burrito
Spice up breakfast for your fussy eater
Scrambled Egg Breakfast Burrito Recipe with PaediaSure Shake
Breakfast blues? Say 'hola' to this totally tasty breakfast burrito enriched with PaediaSure Shake. Quick to make and bursting with nutrition, your little amigos will be hollering for more.
Method
In a large bowl, whisk together PaediaSure Shake ready-to-drink and eggs. In a large sauce pan, heat butter over medium heat and add the egg mixture. Continue to heat, stirring occasionally, until the desired texture is reached. Divide cooked eggs onto tortillas, top with cheese and salsa. Roll them up and enjoy.Tip: These can be made ahead of time, refrigerated, and warmed in the microwave just before serving
Ingredients
Makes 2 servings | Takes 10 minutes
1 cup PaediaSure Shake ready-to-drink, vanilla flavour
4 eggs
tsp. butter or vegetable oil
1/4 cup salsa
1/2 cup cheddar cheese, grated
2 medium whole wheat tortillas

Essential nutrients for kids
Enriched with 26 vitamins & minerals to help keep kids healthy and support their immunity†
One glass of PaediaSure Shake contains the same amount of nutrients as...‡1
Carbohydrates
90g boiled rice
Vitamin C
3-4 strawberries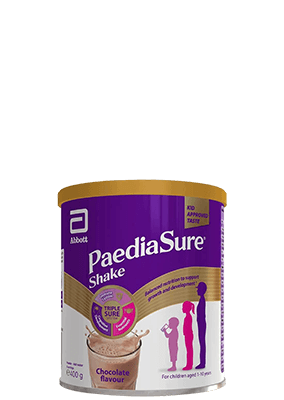 Phosphorus
210g frozen peas
Vitamin A
10-12 cherry tomatoes
1 Approximate values for PaediaSure Shake Powder only. A glass of PaediaSure Shake is 225mL.
‡ Food supplement should not be used as a substitute for a varied and balanced diet and a healthy lifestyle.

Join our family!
To get a FREE sample, discover fuss-free recipes, free meal planners and top tips.
Sign up now!