Easy pancake recipe for kids
Easy Peasy Pancakes Recipe with PaediaSure Shake
Easy Peasy Pancakes Recipe with PaediaSure Shake
Method:
Crack the eggs into a bowl, add the bicarbonate of soda, PaediaSure Shake powder and milk, and whisk until well combined.
Sift the flour into the bowl and whisk again until smooth and thick enough to form a batter.
Heat a frying pan over a moderate heat and add a knob of butter.
Slowly pour a ladle of batter onto the frying pan. Don't move the frying pan around, these are meant to be thick pancakes!
Wait until the top of the pancake begins to bubble and then FLIP!
Cook until both sides are golden brown.
Repeat this to make roughly 12 pancakes, or until all the batter is used up.
Whilst your pancakes cook, assemble fruit to decorate. We liked using blueberries as pawprints (sliced grapes would work well, too). We used banana slices and a piece of date (or plum) for eyes, strawberry slices for ears and a tongue.
Makes: 12
Ingredients
4 scoops* of PaediaSure Shake powder (any flavour)
2 eggs
1 tsp bicarbonate of soda
200ml semi-skimmed milk
130g plain flour
A knob of butter
For the toppings:
Fresh, tinned or dried fruit to decorate. We like strawberries, blueberries, dates and bananas.**
* Use the scoop provided in the PaediaSure Shake tin.
** If using tinned fruit, try to use fruit in natural juice rather than syrup.
Contains allergens: eggs, milk, soy (soya), and gluten. (flour)
Choking hazard: Please be careful of blueberries and grapes.

Essential nutrients for kids
Enriched with 26 vitamins & minerals to help keep kids healthy and support their immunity†
One glass of PaediaSure Shake contains the same amount of nutrients as...‡1
Carbohydrates
90g boiled rice
Vitamin C
3-4 strawberries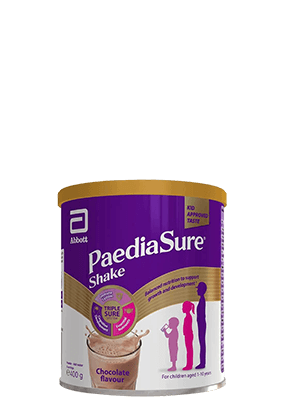 Phosphorus
210g frozen peas
Vitamin A
10-12 cherry tomatoes
1 Approximate values for PaediaSure Shake Powder only. A glass of PaediaSure Shake is 225mL.
‡ Food supplement should not be used as a substitute for a varied and balanced diet and a healthy lifestyle.

Join our family!
To get a FREE sample, discover fuss-free recipes, free meal planners and top tips.
Sign up now!