Create amazing fruity animals to tempt your fussy eater
Pancakes were made for topping. Their mild flavour makes them the perfect partner for just about any fruit you can think of. All you need is a little imagination to turn berries, grapes and bananas into beaks, ears, paws, tails… and hey presto, a carnival of animals. Just the thing to tempt your little monkey into trying something new!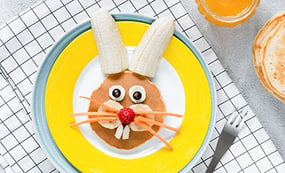 Bananas about bunnies
Oh my ears and whiskers! If that isn't the White Rabbit from Alice in Wonderland! And, he's looking at you with his beady blueberry eyes. What did you say? No, of course those aren't bananas, they're long and luscious lugholes for listening with. And that's not a strawberry, it's an itchy twitchy nose. We think this pancake topping will get your little bunnies hopping with excitement.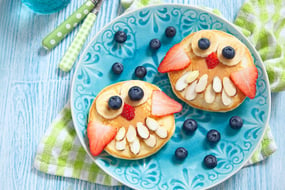 Fruit can be a hoot
Hoo do we have here? Looks like owl has flown all the way on strawberry wings from the Hundred Acre Wood. He seems to have brought a pal, too. With bananas and blueberries for eyes, these feathered friends look good enough to eat. Your little chicks will be chirping for more! (We love their feathers made of sliced almonds*. You could use grape halves, or sliced banana as a nut-free alternative.)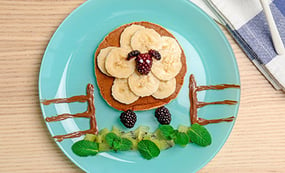 Top of the flocks
When it comes to creativity, this sheep raises the baa! Doesn't she look at home in her meadow of chopped kiwi fruit, warmed by an orange sun? Those slices of banana make the perfect woolly fleece and we love the blackberries for her face, ears and legs. When your little lambs spot this, they will be jumping for joy. Go on, ewe know you want one, too!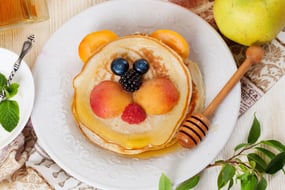 Bear necessity
If they go down to the woods today – ok, the kitchen – they're in for a big surprise! This bear is just the thing to stop those tummies growling. He has blueberry eyes, sliced peaches for ears, a shiny blackberry nose and a pink raspberry tongue. And just look at those chubby cheeks made of peach halves. (You could use nectarines or tinned peaches in natural juice instead.) He's even got a drizzle of honey dribbling down his chin. Now that's what you call a tempting teddy bear's picnic.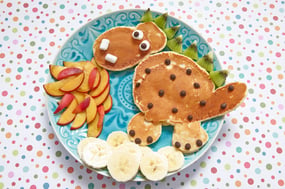 Dragon's den
Wake up their tastebuds with this fire-breathing dragon. Her breath smells just peachy! Create one large pancake and cut out shapes to make her head, body and feet. She has a kiwi fruit crest and blueberry spots and she's stomping all over a floor of sliced banana. Gobble her up quick before she causes any trouble!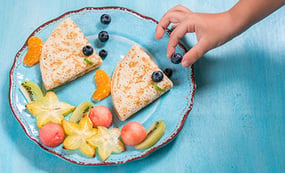 Fishy fun
If your little tiddlers are angling for pudding, these are the perfect catch. They're super easy too! Why not get your crew to help you decorate them? Simply fold thin pancakes into quarters, pop a mandarin segment on for a tail and a blueberry for an eye. Finish with a line of blueberries for bubbles. You can leave it at that or you could create a sea bed using starfruit and kiwi segments, or whatever you have to hand. One thing's for sure, you'll have a shoal lot of fun together!
Want more ideas for pancake toppings? How about this purrfect pancake enriched with PaediaSure Shake?
See Recipes
Looking for fussy eater tips?
See tips
*Nuts and seeds should not be given to children under 5 years old as they pose a choking hazard.

Join our family!
To get a FREE sample, discover fuss-free recipes, free meal planners and top tips.
Sign up now!