The Best Penguin Porridge Recipe
Penguin Porridge Recipe with PaediaSure Shake
Penguin Porridge Recipe with PaediaSure Shake
Method:
Combine porridge and PaediaSure Shake in a bowl.
Prepare using the sachet instructions.
Stir gently, decorate and serve!
Serves: 1
Ingredients
1 pack of instant porridge
3 scoops* of PaediaSure Shake vanilla flavour powder
Fruit to decorate
* Use the scoop provided in the PaediaSure Shake tin.

Essential nutrients for kids
Enriched with 26 vitamins & minerals to help keep kids healthy and support their immunity†
One glass of PaediaSure Shake contains the same amount of nutrients as...‡1
Carbohydrates
90g boiled rice
Vitamin C
3-4 strawberries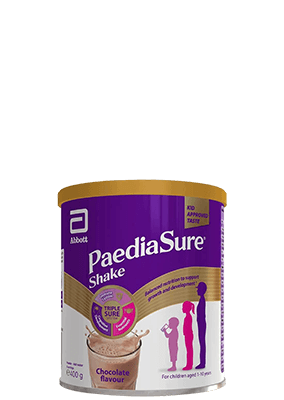 Phosphorus
210g frozen peas
Vitamin A
10-12 cherry tomatoes
1 Approximate values for PaediaSure Shake Powder only. A glass of PaediaSure Shake is 225mL.
‡ Food supplement should not be used as a substitute for a varied and balanced diet and a healthy lifestyle.

Join our family!
To get a FREE sample, discover fuss-free recipes, free meal planners and top tips.
Sign up now!